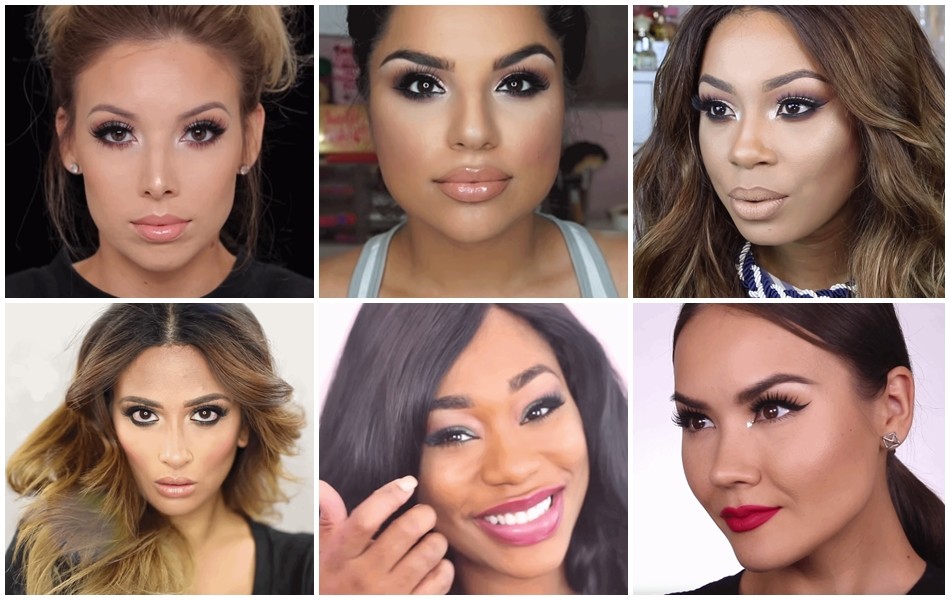 Dozens upon dozens of videos are released daily on YouTube, these are just 6 picks of some of the best looks. 
*The date of the picks is based on the publish date of the videos. 
Picks are listed from left to right, top to bottom.  *You can click the name of the video to visit.
~~~~~
Elba Navarro - It's customary for the birthday person to receive gifts - but Elba gifted us with this gorgeous look.  Her skin is flawless and her eye makeup is so beautiful with pink and purple tones.  
And her lips!  The entire look is beautiful and decadent.  A birthday gift for all!
Bridget Powell - Such a pretty look.  Her eye makeup really is breathtaking.  I love the bold lines contrasted by the soft colors of her shadows.  
I'm also a fan of the nude lip with the line showing - it's not obnoxious - it's just right.  Her skin is dewy and flawless looking too.  So pretty!
Jackie Aina - Never disappointing, she looks amazing.  Her skin is just radiant and flawless.  
The look is pretty and not overdone - perfect for getting attention while at the beach or laying by the pool.
Irene Mahmud Khan - Stunning.  Her eye makeup is so dramatic and beautiful, you can't help but be drawn in.   
I love the nude lip and rosy cheeks too.  The overall look is flawless and beautiful.
Maryam Maquillage - Perfection.  Her skin is positively luminescent.  I love the beautiful eyes with the pop of gold glitter in the corners.  
It's fun, playful and pretty.  Her red lips punctuate this gorgeous look perfectly!